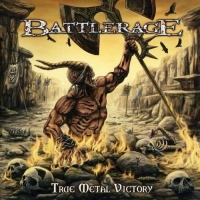 Mouse over to zoom

su carrito esta vacío / your basket is empty

BATTLERAGE | True metal victory
Product Information
MORE INFO
 Type : Full Length | Larga Duración
Formate : CD jewel
Article Code : DTR0420
Label : Metal on Metal
Release date| Fecha de lanzamiento : 20119
Genre :  Heavy Metal, Epic

Product Description | Descripcion del Producto
Gruff vocals, pummeling drums, thundering bass and killer riffs. This metal machine named Battleragee rolls over and mercilessly crushes skulls on its way.

The Axeman has risen again - posers, beware! The battle for True Metal rages on!
Con una voz atronadora, tambores machacantes un bajo atronador y riffs asesinos. Esta máquina del metal llamada Battlerage golpeara tu cráneo con toda su fuerza. Poser cuídense que el decapitador esta de vuelta!
| | | |
| --- | --- | --- |
| 1. | Battlepath | 1:48 |
| 2. | Return of The Axeman | 5:38 |
| 3. | Blood on Iron | 3:39 |
| 4. | Raw Metal | 5:46 |
| 5. | Black Sunday (La Maschera del Demonio) | 6:29 |
| 6. | The Serpent Slumbers | 5:37 |
| 7. | Stygia | 2:35 |
| 8. | My Will Be Done | 4:51 |
| 9. | Warlock's Epitaph | 3:49 |

En stock:
3
Normalmente entrega en: