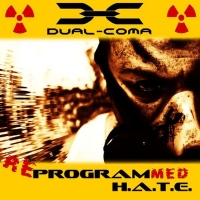 Mouse over to zoom

su carrito esta vacío / your basket is empty

DUAL COMA | Re programmed H.A.T.E.
Product Information
MORE INFO
 Type : Full Length | Larga Duración
Formate : CD jewel
Article Code : DTR0468
Label : Let Them Come

Release date| Fecha de lanzamiento : 2009
Genre : Thrash Metal

Product Description | Descripcion del Producto
Ten tracks of heavy but catchy death / thrash. DUAL – COMA combines death metal heaviness with thrash intensity and everything is served in a modern way. The CD contains 8 tracks from Program H.A.T.E. and an EP Bulletproof Heart with two brand new songs.
10 tracks de Heavy pero pegajoso Death /Thrash. DUL COMA combina la pesadez del Heavy Metal con la intensidad del Thrash y todo de forma moderna. Este Cd contiene 8 temas de su disco Program H.A.T.E. y su ep Bulletproff con dos nuevas canciones
| | | |
| --- | --- | --- |
| 1. | Bulletproof Heart | 4:31 |
| 2. | Divided Mind | 4:31 |
| 3. | Blood Drunk | 4:03 |
| 4. | Nuclear Lost | 5:02 |
| 5. | Constellation | 5:11 |
| 6. | Chain Reaction | 4:31 |
| 7. | Parabellum | 4:19 |
| 8. | Stand By | 4:52 |
| 9. | Program H.A.T.E. | 4:39 |
| 10. | Zero | 5:39 |
En stock:
5
Normalmente entrega en: